"I do not know where to find in any literature, whether ancient or modern, any adequate account of that nature with which I am acquainted. Mythology comes nearest to it of any." - Henry David Thoreau (1817 – 1862)
(306 articles since November 2008)
If you are an extraterrestrial, ultraterrestrial, subterranean, time-traveler, jump-room jumper,
or just want to tell an experience, enter a title below and tell your story!
In the News - 2017

BREAKING NEWS
"I saw aliens and Roswell UFO" CIA agent in shock deathbed confession on Area 51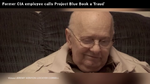 AN ALLEGED former CIA agent and military officer gave a shocking deathbed "confession" in which he claimed to have seen living extraterrestrials and alien space craft secretly stored in the mysterious Area 51 US Air Force base.
By JON AUSTIN, Mon, Jun 5, 2017
[An anonymous former CIA officer] was sent in to Area 51 on a research mission to report back to President Dwight Eisenhower, who warned of an alien invasion.
The claims were made in a video interview in which the 77-year-old man could be clearly seen, but he was not named.
UFO author Richard Dolan interviewed the man who said he was facing kidney failure if an operation was unsuccessful, and may have just months to live.
He claimed to have served in the US Army, worked for the CIA, and worked on the US Air Force Project Blue Book–on studies into UFOs.
His most shocking claim was to have been taken inside Area 51 to see a variety of UFOs allegedly recovered by the US military.
These were said to include a flying saucer said to have crash landed at Roswell, New Mexico, in July 1947.
Follow this story at Daily Express 'I saw aliens and Roswell UFO' CIA agent in shock deathbed confession on Area 51
Ancient astronauts
Edit

The ancient astronaut hypothesis is written about by Erich von Däniken, Giorgio A. Tsoukalos, Zecharia Sitchin, and Peter Kolosimo who say that intelligent extraterrestrial beings visited Earth in ancient times and profoundly affected the development of human civilization. It also claimed that ancient monuments such as the Nazca Lines, the Pyramids of Giza and the Moai statues of Easter Island were actually made with the help of the aliens. The debate has raged to this day including several failed attempts to prove or disprove the theory. Still no one has found absolute proof of the facts one way or the other. While the truth may never be known, it is our belief that The ancient astronauts theory did indeed happen. We will show what we think actually happened back in ancient times because knowing the truth is important. Read more...
Paranormal resources

For all your paranormal UFO needs
Note: You can catch many of these shows on YouTube
Looking for writers
Want to help out?
To write a new article, just enter the article title in the box below.
Talk and more...
Check out the community portal to see what the community is working on, to give feedback or just to say hi.
Or head on over to the forums and coordinate with the community on editing, projects, and more.
Not sure where to start?
Adding content
|}
Featured Media
Visit likened Wikis
Ad blocker interference detected!
Wikia is a free-to-use site that makes money from advertising. We have a modified experience for viewers using ad blockers

Wikia is not accessible if you've made further modifications. Remove the custom ad blocker rule(s) and the page will load as expected.