"I do not know where to find in any literature, whether ancient or modern, any adequate account of that nature with which I am acquainted. Mythology comes nearest to it of any." - Henry David Thoreau (1817 – 1862)
(307 articles since November 2008)
If you are an extraterrestrial, ultraterrestrial, subterranean, time-traveler, jump-room jumper,
or just want to tell an experience, enter a title below and tell your story!
In the News - 2017

BREAKING NEWS
"I saw aliens and Roswell UFO" CIA agent in shock deathbed confession on Area 51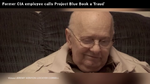 AN ALLEGED former CIA agent and military officer gave a shocking deathbed "confession" in which he claimed to have seen living extraterrestrials and alien space craft secretly stored in the mysterious Area 51 US Air Force base.
By JON AUSTIN, Mon, Jun 5, 2017
[An anonymous former CIA officer] was sent in to Area 51 on a research mission to report back to President Dwight Eisenhower, who warned of an alien invasion.
The claims were made in a video interview in which the 77-year-old man could be clearly seen, but he was not named.
UFO author Richard Dolan interviewed the man who said he was facing kidney failure if an operation was unsuccessful, and may have just months to live.
He claimed to have served in the US Army, worked for the CIA, and worked on the US Air Force Project Blue Book–on studies into UFOs.
His most shocking claim was to have been taken inside Area 51 to see a variety of UFOs allegedly recovered by the US military.
These were said to include a flying saucer said to have crash landed at Roswell, New Mexico, in July 1947.
Follow this story at Daily Express 'I saw aliens and Roswell UFO' CIA agent in shock deathbed confession on Area 51

Saurians are reptilians who are indigenous to Earth. They are Sauria blooded descendants of Iguanodontia. When they cohabited with the humans, the Saurians were often venerated as "Gods". The Saurians could be viewed as a spiritual-philosophical-astrological wing of the reptilians. They are also mentioned in various religious text, including the Hebrew Bible, the Quran, the Vedas, and ancient Mayan and Egyptian inscriptions. Many believe they were one of the few ancients that even taught humans how to build. Read more...
Paranormal resources

For all your paranormal UFO needs
Note: You can catch many of these shows on YouTube
Looking for writers
Want to help out?
To write a new article, just enter the article title in the box below.
Talk and more...
Check out the community portal to see what the community is working on, to give feedback or just to say hi.
Or head on over to the forums and coordinate with the community on editing, projects, and more.
Not sure where to start?
Adding content
|}