If you are an extraterrestrial, ultraterrestrial, subterranean, time-traveler, jump-room jumper,
or just want to tell an experience, enter a title below and tell your story!
Poll of the Month
MONTH OF MAY

Was there really Nazi UFOs?

 
UFO-Alien Database is looking for additional writers
Want to help out?
To write a new article, just enter the article title in the box below.
Not sure where to start?
Adding content
Talk and more...
Check out the community portal to see what the community is working on, to give feedback or just to say hi.
Or head on over to the forums and coordinate with the community on editing, projects, and more.
About us

UFO-Alien Database is a source of information on extraterrestrials, UFOs, ghosts, hauntings and all other things of the paranormal and supernatural world.

You are welcome to join in and help build our wiki, or just use it as a reference for information. (We ask that you read our Policies and Rules before you begin adding and contributing to our wiki.)

The current Top 5 contributing users
Optimistoptimist
Anubis 08
Rift Fleet
12y1
Xzantronos
Current events



Cyclops Goat

May 16, 2017 A BABY goat with one enlarged eye has been born in Assam, India. The kid was born on Wednesday May 10th, and has baffled local villagers. Vets predicted that the goat, who also has only one ear, would die within a few days but he has defied expectations and stayed alive longer than expected. The condition which causes these defects is called cyclopia and can also affect horses, pigs and cows.

[[Click picture to view on YouTube

read more...]]
Featured Media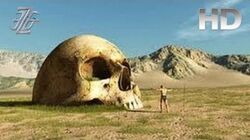 Visit likened Wikis
Ad blocker interference detected!
Wikia is a free-to-use site that makes money from advertising. We have a modified experience for viewers using ad blockers

Wikia is not accessible if you've made further modifications. Remove the custom ad blocker rule(s) and the page will load as expected.