"I do not know where to find in any literature, whether ancient or modern, any adequate account of that nature with which I am acquainted. Mythology comes nearest to it of any." - Henry David Thoreau (1817 – 1862)
(307 articles since November 2008)
If you are an extraterrestrial, ultraterrestrial, subterranean, time-traveler, jump-room jumper,
or just want to tell an experience, enter a title below and tell your story!
In the News - 2017

BREAKING NEWS
This fall, adventurer extraordinaire Josh Gates will be searching for proof of extraterrestrial life in an epic four-part investigation titled Expedition Unknown: Hunt for ExtraTerrestrials. According to Deadline Hollywood, production is underway and the special is scheduled to air sometime in October 2017. On this new Expedition Unknown special, Josh will trek across four continents to search for proof that life exists on other planets. Serving as host and executive producer of Expedition Unknown: Hunt For ExtraTerrestrials, Josh Gates travels from the deserts of Chile to the African wilderness, and on to one of the planet's most remote islands on a quest to uncover the truth behind the legends and mysteries regarding extraterrestrial encounters.
Grey aliens
Edit
Grey aliens (commonly known as The Greys) are aliens who appear "grey" in color. There are various groups such as the Orion Greys, Potaca Greys, the Solipsi Rai, and Zeta Greys. These celestines are identified with various constellations that are suspect to be gateways, or Stargates to multiple dimensions. Read more...
Paranormal resources

For all your paranormal UFO needs
Note: You can catch many of these shows on YouTube
Looking for writers
Want to help out?
To write a new article, just enter the article title in the box below.
Talk and more...
Check out the community portal to see what the community is working on, to give feedback or just to say hi.
Or head on over to the forums and coordinate with the community on editing, projects, and more.
Not sure where to start?
Adding content
|}
Featured content
Nibiru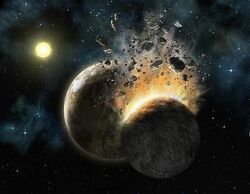 Since 1995, Nibiru has been attributed to a "Planet X" doomsday object that is supposed to have a disastrous encounter with Earth forwarding an End of Times scenario. The Alien agenda has been using people like Nancy Lieder, founder of the website ZetaTalk, to disseminate disinformation of a Doomsday event. Lieder is a contactee who receives messages, via an implant in her brain, from extraterrestrials allegedly from the Zeta Reticuli star system. Lieder was used by the "Zetas" to proclaim a Nibiru cataclysm in 1995. When that year passed, the next claim was for May 27, 2003. This set the pace for many other groups to take up the Doomsday proclamation and cite December 21, 2012, the last day at the end of a cycle (baktun) in the long count of the Mayan calendar. All of these false proclamations further the interests of the Alien agenda to create confusion about End times, so that the humans will not know who is "saving" them, or if they even need to be "saved".

List all articles...
Visit likened Wikis
Ad blocker interference detected!
Wikia is a free-to-use site that makes money from advertising. We have a modified experience for viewers using ad blockers

Wikia is not accessible if you've made further modifications. Remove the custom ad blocker rule(s) and the page will load as expected.