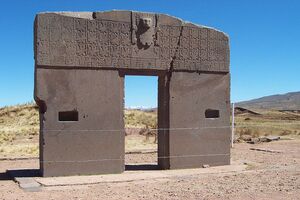 Tiwanaku (Tiahuanaco, or Tiahuanacu) is a Pre-Columbian archaeological site in western Bolivia.
As in Mu and Atlantis, construction in South America was on megalithic scale with polygonal construction techniques designed to make the massive walls earthquake-proof. Earthquake-resistant walls were important all around the Ring-of-Fire, ancient Mu. 
Homes and communal buildings were built out of megalithic blocks of stone. Because of the high regard the culture had for the well being of future generations and the value they placed upon the gradual, sustained growth of the community, structures were built to last for thousands of years. A house built of cement, wood and plaster-wall will last a hundred years or so, if kept up. Witness the megalithic construction of Egypt, Malta, Peru. These buildings are still standing today. Cuzco, the ancient capital of Peru, which was probably built before the Incas, is still inhabited today after thousands of years. Indeed, most of the buildings of downtown Cuzco today incorporate walls that are many hundreds of years old (whereas more recent buildings constructed by the Spanish are already crumbling). 
Only a few hundred miles to the south of Cuzco lie the fantastic ruins of Puma Punku, high in the Altiplano of Bolivia. The ruins of Puma Punku, about one mile from the famous ruins of Tiahuanaco, are massive megalithic constructions that are tossed about like toy building blocks. What kind of cataclysmic upheaval could have done such a thing? Here is the kind of megalithic construction meant to last for thousands of years, yet, the 100-ton blocks have been torn asunder by mighty geological forces. 
It would appear that the South American continent was suddenly and violently thrust upward during some kind of cataclysm, most likely a pole shift. A former sea-level canal can now be seen at 13,000 feet in the Andes Mountains. As possible evidence for this scenario, many ocean fossils can be found near Lake Titicaca. The lake is even inhabited by the only known fresh water sea horses.
Ad blocker interference detected!
Wikia is a free-to-use site that makes money from advertising. We have a modified experience for viewers using ad blockers

Wikia is not accessible if you've made further modifications. Remove the custom ad blocker rule(s) and the page will load as expected.