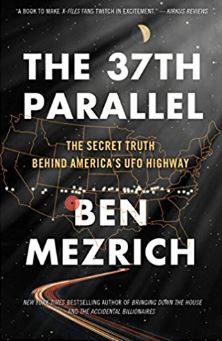 The 37th Parallel is a non-fiction book written by Ben Mezrich that follows Ufologist Chuck Zukowski's investigations down the "UFO highway" of 37th parallel north in the United States.
American author of nonfiction Ben Mezrich details Chuck Zukowski's efforts to track paranormal activity along the UFO highway, in his book, "The 37th Parallel: The Secret Truth Behind America's UFO Highway. Microchip engineer and sheriff's deputy Chuck Zukowski is obsessed with tracking down UFO reports in Colorado. He even takes the family with him on weekend trips to look for evidence of aliens. But this innocent hobby takes on a sinister urgency when Zukowski learns of mutilated livestock—whose exsanguination is inexplicable by any known human or animal means.[1]
Along an expanse of land stretching across the southern borders of Utah, Colorado, and Kansas, Zukowski documents hundreds of bizarre incidences of mutilations, and discovers that they stretch through the heart of America. His pursuit of the truth draws him deeper into a vast conspiracy, and he journeys from Roswell and Area 51 to the Pentagon and beyond; from underground secret military caverns to Native American sacred sites; and to wilderness areas where strange, unexplained lights traverse the sky at extraordinary speeds. Inspiring and terrifying, Mezrich's "dramatic narrative" connects dots we didn't even know existed.
References
Edit
Ad blocker interference detected!
Wikia is a free-to-use site that makes money from advertising. We have a modified experience for viewers using ad blockers

Wikia is not accessible if you've made further modifications. Remove the custom ad blocker rule(s) and the page will load as expected.