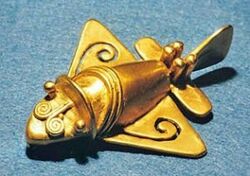 The Quimbaya artifacts are several dozen golden objects, found in Colombia, made by the Quimbaya civilization, dated around 1000 CE, a few of which (the so-called Quimbaya airplanes) are supposed by ancient astronauts theorists to represent modern airplanes, and therefore to be out-of-place artifacts. The whole of the figurines, measuring 2 to 3 inches (5 to 7.5 cm) each, are described in mainstream archaeology as depicting birds, lizards, amphibians and insects common in that region and period, some of them highly stylized, as in the Gold Museum, Bogotá.
In 1994, Germans Peter Belting and Conrad Lubbers created simplified radio-controlled scale models of these objects and showed that their models, which lack some convoluted features present in the real figurines, could fly.[1]
References
Edit
↑ Thomas, Robert Steven (2011). Intelligent Intervention. USA: Dog Ear Publishing. pp. 74–77. ISBN 978-1-4575-0778-6
External links
Edit
Ad blocker interference detected!
Wikia is a free-to-use site that makes money from advertising. We have a modified experience for viewers using ad blockers

Wikia is not accessible if you've made further modifications. Remove the custom ad blocker rule(s) and the page will load as expected.