The North American Dogman Project (NADP) is dedicated for the retrieval of information on the creature phenomenon known as the "Dogman' (see Chimera).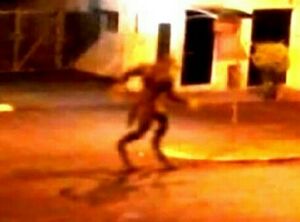 NADP is based out of Cincinnati, Ohio. They seek to unite researchers for the common goal of consolidating and sharing knowledge about the creature, gathered across the US and Canada. The group consists of volunteer researchers in many states of the continental US, who are experienced observers, hunters and trackers with backgrounds in the fields of law enforcement, former military, and other crypto groups.
Equipment
Edit
To aid in their investigations, they make use of drone technology. In 2017, the DJI Phantom 2 drone with professional Zenmuse gimble and GoPro Hero 3.
Dogman Encounters
Edit
Listen to Dogman Encounters Radio podcasts on YouTube.
External links
Edit
Ad blocker interference detected!
Wikia is a free-to-use site that makes money from advertising. We have a modified experience for viewers using ad blockers

Wikia is not accessible if you've made further modifications. Remove the custom ad blocker rule(s) and the page will load as expected.