Mothership Glass of Bellingham, Washington, produces the most unique smoking glass water-pipes, or bongs. The company predominantly communicates with their customers through Facebook. They have become a notable company since at least 2012.
Sacred geometry
Edit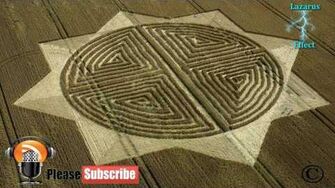 Investigative journalist Linda Moulton Howe reports that Mothership Glass uses sacred geometry to produce their fine glass work. An insider who goes by the codename Atari Video, who is a digital marketer for Mothership Glass, reported that the glass company uses direct alien technology to make their patterns and designs. They have an elite gallery that is so unique and extremely limited, that they are known to conduct secret shows, and private after midnight sales. A sale for a collectible can be as high as $50,000 on the low end.
Some of their designs and symbols have been observed in various crop circles. Many symbols are so directly related, that Mothership Glass has been suspect of possibly being behind certain crop circle formations in an alleged publicity stunt. However, it's argued that the glass company does not mass produce their product, and the quality alone sells itself.
External links
Edit
Ad blocker interference detected!
Wikia is a free-to-use site that makes money from advertising. We have a modified experience for viewers using ad blockers

Wikia is not accessible if you've made further modifications. Remove the custom ad blocker rule(s) and the page will load as expected.