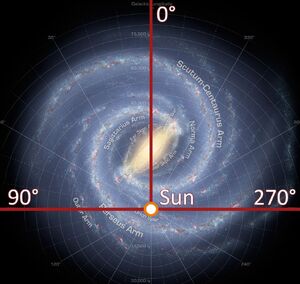 The Milky Way is a barred spiral galaxy that contains the Solar System. It is one of billions of galaxies in the observable universe.
Its name is a translation of the Latin Via Lactea, in turn translated from the Greek Γαλαξίας (Galaxias), referring to the pale band of light formed by the galactic plane as seen from Earth (see etymology of galaxy). Some sources hold that, strictly speaking, the term Milky Way should refer exclusively to the band of light that the galaxy forms in the night sky, while the galaxy should receive the full name Milky Way Galaxy, or alternatively the Galaxy. However, it is unclear how widespread this convention is, and the term Milky Way is routinely used in either context.
The Mily Way is the home galaxy of various species.
Ad blocker interference detected!
Wikia is a free-to-use site that makes money from advertising. We have a modified experience for viewers using ad blockers

Wikia is not accessible if you've made further modifications. Remove the custom ad blocker rule(s) and the page will load as expected.