The Large Hadron Collider (LHC) is the world's largest and most powerful particle collider, most complex experimental facility ever built. It is the largest single machine in the world.[1] It was built by the European Organization for Nuclear Research (CERN) between 1998 and 2008 in collaboration with over 10,000 scientists and engineers from over 100 countries, as well as hundreds of universities and laboratories.[1]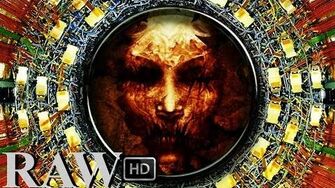 Dimensions
Edit
Main: Lokas or Talas

"Out of this door might come something, or we might send something through it," said Sergio Bertolucci, the Director for Research and Scientific Computing at CERN.[2]
Bertolucci theorizes that there would be an "open door", but that even with the power of the LHC at their disposal, they would only be able to hold it open "a very tiny lapse of time, 10-26 seconds, [but] during that infinitesimal amount of time they would be able to peer into this open door, either by getting something out of it or sending something into it."
Bertolucci adds, "after this tiny moment the door would again shut, bringing us back to our 'normal' four dimensional world... It would be a major leap in our vision of Nature, although of no practical use (for the time being, at least). And of course [there would be] no risk to the stability of our world."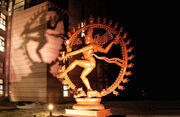 The Large Hadron Collider serves as an Orion stargate.[3] The LHC is near Geneva in Switzerland, partially situated in the French town Saint-Genus-Pouilly; the name "Pouilly" comes from the Latin "Appolliacum"; in Roman times there was a temple dedicated to Apollo in this exact area.[4] "Apollo" means "to destroy" or "the destroyer" (= Apollyon) and right at CERN/LHC infamously stands a statue of Shiva, a Hindu deity known as "the Destroyer".[5]
01:11:44

Coast to Coast AM (April 17, 2017) Exploring the Universe

03:29:30

Steve Quayle June 23, 2017 - Abandon Ascending, (Tom Horn 2017)
References
Edit
External links
Edit
Conspiracy Wiki
Edit
Ad blocker interference detected!
Wikia is a free-to-use site that makes money from advertising. We have a modified experience for viewers using ad blockers

Wikia is not accessible if you've made further modifications. Remove the custom ad blocker rule(s) and the page will load as expected.