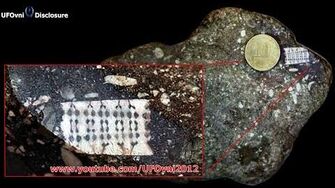 The Labinsk chip is a 410 to 450-million-year-old specimen, that has the appearance of a microchip, that was found in Labinsk, Russia.
The specimen was found in 2013 by a fisherman named Viktor Morozov who handed it over to the "University of Southern Polytechnic Nowoczerkaskiej (Platov South-Russian State Polytechnic University). In November 2014, the University sent a statement to the Max Portal Russian news agency to report that the "microchip" is a sea lily fossil.[1]
References
Edit
↑ Epoch Times, Is This Really a 250-Million-Year-Old Microchip? (May 6, 2015), by Tara MacIsaac
External links
Edit
Ad blocker interference detected!
Wikia is a free-to-use site that makes money from advertising. We have a modified experience for viewers using ad blockers

Wikia is not accessible if you've made further modifications. Remove the custom ad blocker rule(s) and the page will load as expected.