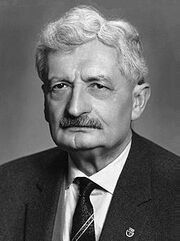 Hermann Oberth (1894-1989) was an Austro-Hungarian-born German physicist and engineer. He is considered one of the founding fathers of rocketry and astronautics.
Disclosure
Edit
Hermann Oberth made this statement post WWII:

"We cannot take the credit for our record advancement in certain scientific fields alone; we have been helped."

When asked by whom, he replied:

"The people of other worlds."
References
Edit
"Above Top Secret" by Timothy Good, William Morrow and Company, Inc. 1988.
External links
Edit
The Aldebaran Mystery, by Jim Nichols
Ad blocker interference detected!
Wikia is a free-to-use site that makes money from advertising. We have a modified experience for viewers using ad blockers

Wikia is not accessible if you've made further modifications. Remove the custom ad blocker rule(s) and the page will load as expected.