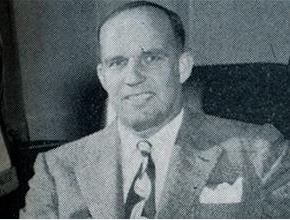 Guy Hottel (1902-1990) was a special agent in charge of the FBI's Washington Field Office. The information concerning Hottel is in a March 22, 1950 memo that he sent to the FBI Director concerning flying saucers.[1]
New Mexico
Edit
Guy Hottel relates that three downed craft were recovered in New Mexico. His informant indicated that the craft were downed due to US government high powered radar interference that affected the controlling mechanism of the flying saucers. Some dispute the "radar" claim, and suggest that it was more likely from electromagnetic anomalies. Others indicate that all UFO incidents were intentionally crashed for US government recovery.
Assessment
The memo does not state where or in what time-frame in New Mexico the three craft were downed. Hottel could have been referring to either three separate incidents in New Mexico, or up to two or three ships in one location.
Roswell UFO incident in Roswell, New Mexico, June 1947
Aztex UFO incident in Aztec, New Mexico, March 1948[2]
Pending
References
Edit
↑ FBI Records: The Vault, Guy Hottel, (Disclosed by the FBI, 12.06.10)
↑ Benjamin Radford (15 August 2014). Mysterious New Mexico: Miracles, Magic, and Monsters in the Land of Enchantment. University of New Mexico Press. pp. 68–. ISBN 978-0-8263-5452-5.
External links
Edit
Guy Hottel Memo
Edit
Ad blocker interference detected!
Wikia is a free-to-use site that makes money from advertising. We have a modified experience for viewers using ad blockers

Wikia is not accessible if you've made further modifications. Remove the custom ad blocker rule(s) and the page will load as expected.