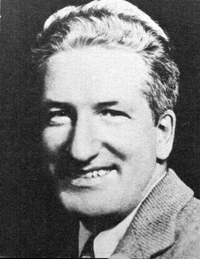 Frank Scully (28 April 1892 – 23 June 1964) was an American journalist, author, humorist, and a regular columnist for the entertainment trade magazine Variety.
Flying saucers
Edit
In October and November 1949, Scully published two columns in Variety, claiming that dead extraterrestrials were recovered from a flying saucer crash, based on what he said was reported to him by a scientist involved.[1][2] His 1950 book Behind the Flying Saucers expanded on the theme, adding that there had been two such incidents in Arizona and one in New Mexico, a 1948 incident that involved a saucer that was nearly 100ft in diameter.[3] The saucers supposedly worked on magnetic principles. In the book, Scully revealed his two sources to be Silas M. Newton and a scientist he called "Dr. Gee." Sixty thousand copies of the book were sold. Scully was known for his idiosyncratic prose, describing Dr. Gee as having "more degrees than a thermometer" and an alleged crashed saucer in the Sahara as "more cracked than a psychiatrist in an auto wreck."[4] In 1952 and 1956, True magazine published articles by San Francisco Chronicle reporter John Philip Cahn[5][6] that purported to expose Newton and "Dr. Gee" (identified as Leo A. GeBauer) as oil con artists who had hoaxed Scully.[7]
Behind the Flying Saucers was the only book Scully wrote on flying saucers. He briefly revisited the subject in his 1963 book In Armour Bright,[8] reiterating his belief in the veracity of a 1948 saucer crash near Aztec, New Mexico.
Like Scully's story, a FBI memo written by Special Agent in Charge (SAC) Guy Hottel, dated March 22, 1950, relates a claim of three flying saucer crashes in New Mexico. It states: "An investigator for the Air Forces stated that three so-called flying saucers had been recovered in New Mexico." It then goes on to say that "According to Mr. redacted, informant, the saucers were found in New Mexico due to the fact that the Government had a very high-powered radar set-up in that area and it is believed the radar interferes with the controlling mechanism of the saucers."[9] However, skeptics suspect the unidentified "informant" was probably either Newton or GeBauer, who they say conned Scully, and likewise was telling stories to the U.S. Air Force and FBI.
On 25 March 2013, the FBI issued a press release concerning Hottel's memo. In addressing the memo's context and possible connection to a hoax, the Bureau wrote, "Finally, the Hottel memo does not prove the existence of UFOs; it is simply a second- or third-hand claim that we never investigated. Some people believe the memo repeats a hoax that was circulating at that time, but the Bureau's files have no information to verify that theory."[10]
In Fiction
Edit
The name "Scully" was used for a main character in The X-Files, likely as a wink to Frank Scully.
References
Edit
Ad blocker interference detected!
Wikia is a free-to-use site that makes money from advertising. We have a modified experience for viewers using ad blockers

Wikia is not accessible if you've made further modifications. Remove the custom ad blocker rule(s) and the page will load as expected.