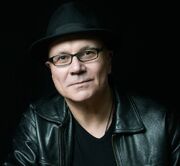 Andrew Collins is an English author of history, archaeology, and science. For over 30 years he has explored the relationship between archaic religious beliefs and the cosmos, examining the origins of human civilization, the development of technology and the inspirations behind magic and religion. His discoveries have led to several thought-provoking books that challenge the way we think about the past, including From the Ashes of Angels and Gateway to Atlantis. Collins is also the organizer of the Questing Conference, Britain's premier event on alternative history, forbidden archaeology, and ancient wisdom.[1]
References
Edit
Ad blocker interference detected!
Wikia is a free-to-use site that makes money from advertising. We have a modified experience for viewers using ad blockers

Wikia is not accessible if you've made further modifications. Remove the custom ad blocker rule(s) and the page will load as expected.